Thomas Rhett was on hand to see his dad Rhett Akins inducted as a member of the 2021 Class of the Nashville Songwriters Hall Of Fame.
Thomas posted this special message to honor his father…
"Tonight I got to watch my dad, Rhett Akins, be inducted into the Nashville Songwriters Hall of Fame. Dad, I can't express how amazed I am at your talent, creativity, drive and even though you have all that drive how calm you are through the process. You always tell me that if God wants it to happen, it will. I try to remind myself of that everyday. In a business where 'hits' drive people you seem to never lose that feeling inside of you that loved writing and singing as a 15 year old kid, and even though you have that mentality you still touch gold with everything that comes out of your mouth. I have learned so much from you and will continue to learn from you. It's mind blowing that we get to work together as songwriters and we have such a blast doing it. I love you and tonight was so well deserved. Can't wait to see what the next years bring your way."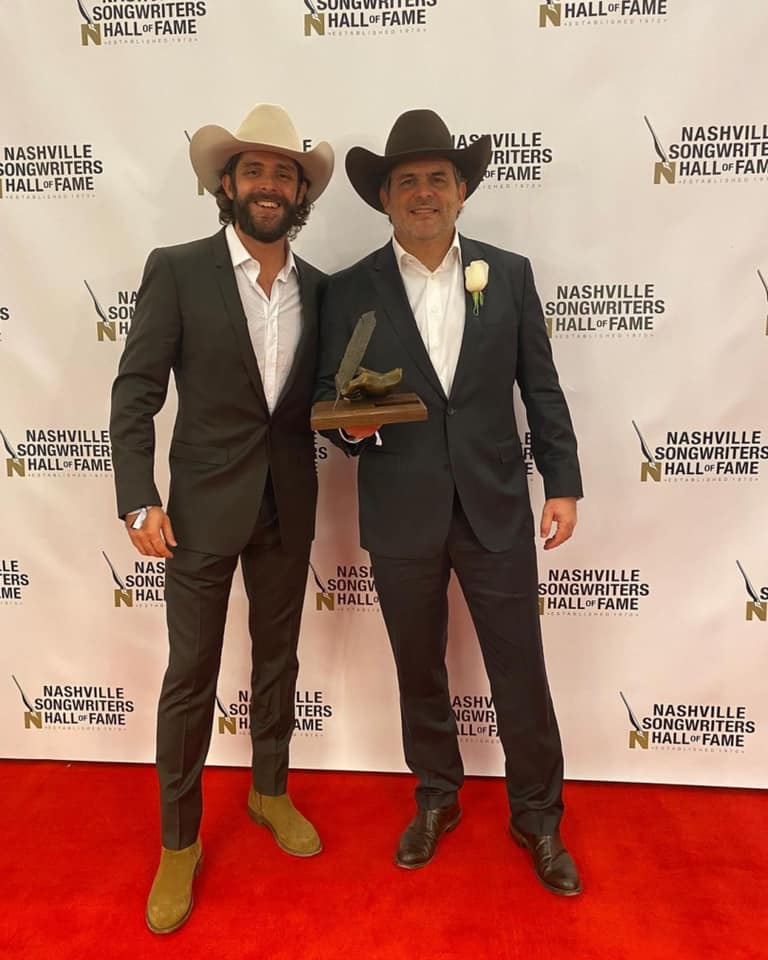 Rhett has been a big part of Thomas' career – including not only co-writing the number-one hit "What's Your Country Song" – but Thomas shares that a line from one of his dad's hits in the 1990's ("That Ain't My Truck") also made the lyrics, "As we started to kinda craft this song, we had the chorus first, and then we were trying to figure out where to take the verses. And we kinda thought, what if we could tell a story in the verses through using some of our favorite song titles, whether it's from the 80s or from the 90s or now. I remember the first line that I spit out was, 'Are you heart broke because you know that ain't your truck in her drive,' literally as a joke, just cause dad was sittin' there. And as we started to write the song, it felt like it just fit. It was pretty funny, but I'm glad dad got a shout out in that song"
Congrats to all the inductees (Class of 2021 & 2020) for the Nashville Songwriters Hall Of Fame.
Photos Courtesy of Thomas Rhett & Rhett Akins