Guest post by Operations Manager, Amber Lee:
I'm Amber and I'm a Stampede Virgin. Please share your advice, tips & tricks about attending Stampede. Seriously. I need your advice!
I don't know about you, but as the mom of two teenagers (and I married my High School Sweetheart), the lyrics from Walker Hayes "AA" really resonate with me.
I'm just tryna keep my daughters off the pole
And my sons out of jail
Tryna get to church so I don't go to hell
I'm just tryna keep my wife from figuring out
That I married up and she married way, way down….
"AA" by Walker Hayes has been on repeat on my Spotify for weeks now! I first made my husband listen to it on New Year's Eve as we were headed over to see some friends and he was rolling with laughter. I also still LOVE Walker's song "Fancy Like." I love the original version, the one with Kesha, and don't forget the Christmas Parody version, "Christmas Like" – which was done by the a cappella group STRAIGHT NO CHASER. Straight No Chaser played TPAC several years back. So talented! I digress…. I'm obsessed with Walker's music and I can't wait to be singing my heart out at Country Stampede this summer.
Now, let's talk about the hometown kids. You gotta love when a hometown kid makes it BIG! That's just one reason I'm excited to see Jerrod Nieman at Country Stampede 2022. The Harper, Kansas native puts on a HIGH ENERGY show! I'll never forget how the crowd went wild when, during "Donkey," someone came out on stage wearing a donkey mask when he played in Garnett back in 2014 at Cornstock. As a Kansas native myself (Thayer, Kansas), I've had a chance to see Jerrod in concert a few times. That concert in Garnett was my favorite! We took a party bus of 102.9 listeners to see him perform. What. A. Blast! Photographic evidence –> https://www.facebook.com/media/set/?set=a.10152639709252368&type=3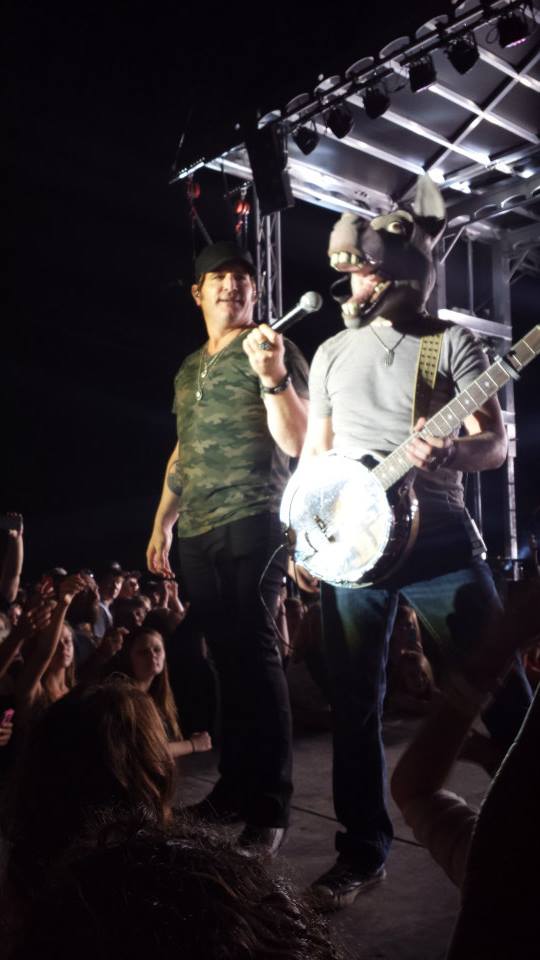 Speaking of hometown kids – if you're not familiar with Travis Marvin… LOOK HIM UP NOW! Travis is playing in the campgrounds during an afterhours show. (Just another reason to buy your camping passes NOW!) Travis is from Ottawa, Kansas. I've seen him play tons of venues around here – Kickstart Saloon, Cornstock Concert in Garnett, Granada Theatre, and Bull Creek Distillery, to name a few. Travis has toured throughout the Midwest, and even hit the road to open for Aaron Lewis before the pandemic. And, he has such a great heart! The sweetest artists I've ever met. He even volunteered his time to help judge a country music singing competition for our station a few years ago. My top three Travis songs are Too Good Not To, Again Someday (grab the tissues for this one), and Maybe.
Get your tickets at countrystampede.com and I'll see ya'll at Stampede! (I'm serious about needed Stampede advice. I've never been to any music festival. HELP ME!)
Click here to open our Country Stampede Party Playlist on YouTube!
Click here to open our Country Stampede Party Playlist on Apple Music!
Check out the previous Country Stampede Party Playlist here!