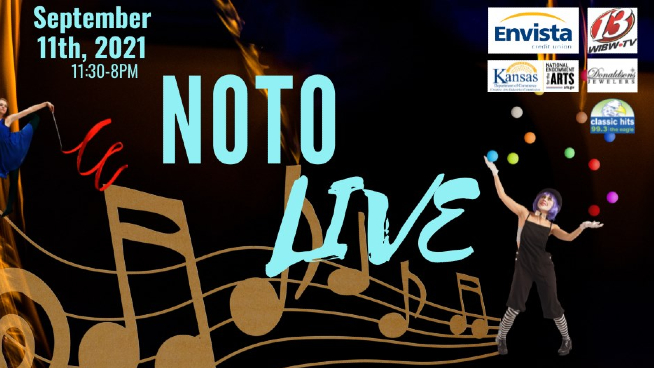 The NOTO Live Festival is back!
NOTO Live is coming up on September 11th and will feature live music, performance art, busking, and more! This family friendly event takes place throughout NOTO, with special performances at Rosebud Park and Compass Point.
Want to snag VIP tickets? Grab them here!
Performance Schedule
The following is a list of scheduled performances and acts. Art demonstrations, buskers, and other activities will be ongoing throughout the district. A more detailed schedule will be posted prior to the event.
11:30-1:00 Topeka Big Band (Redbud Park)
1:00-1:15 Topeka High School Drumline (Begins at Compass Point; Ends at Redbud Park)
2:00-3:15 Lady Shakes Theater Group (Compass Point)
2:15-3:15 Last Carnival Act: Flying Fun (Redbud Park)
2:45-3:30 Tim Dingus: Party Tricks for Friends (Redbud Park)
3:00-7:00 Art Fusion: Live Art by a Community of Artists (Redbud Park Pavilion)
3:30-4:15 Steven Massey Dance Theatre: A Girls Life (Compass Point)
3:30-4:00 Last Carnival Act: Defying Gravity (Redbud Park)
4:15-4:30 Ballet Folklorica: Bailes Regiones de Mexico (Redbud Park)
5:30-6:45 Topeka Civic Theater: Senior Class Improv Comedy (Compass Point)
5:45-6:15 Last Carnival Act: High in The Sky (Redbud Park)
6:30-7:15 Flint Hills Fairies (Redbud Park)
7:15-8:00 Last Carnival Act: Grand Finale (Redbud Park)